From 1 to 30 November in Bryullov mansion in St. Petersburg will be held International Salon of Contemporary Art UnisVers'ART. This year the event will bring together more than 60 participants from 18 countries, who will present their works on the theme of "UnisVers'ART".
The aim of the Salon is to strengthen cultural ties, the realization of a clearer understanding of the common cultural heritage, the consolidation of feelings of mutual sympathy and respect between circles of creative intelligentsia.
The presented works will be evaluated by the members of the international jury, which includes the Honorary President of the Academy of Arts, Sciences and Letters of France Jacqueline Vermeer, former head and curator of the Louvre Marie-Andrea Zamit, art expert at Christie's Thierry Tisier and others.
The organizers hope that the public and participants will appreciate the salon.
"It is said that art united under the French flag is present in the heart of every Russian person who has ever touched it. From now on it will be possible to say with good reason that Russia is also in the heart of France, as a hospitable house, which opened its doors for the International Salon UnisVers'ART", – the organizers said.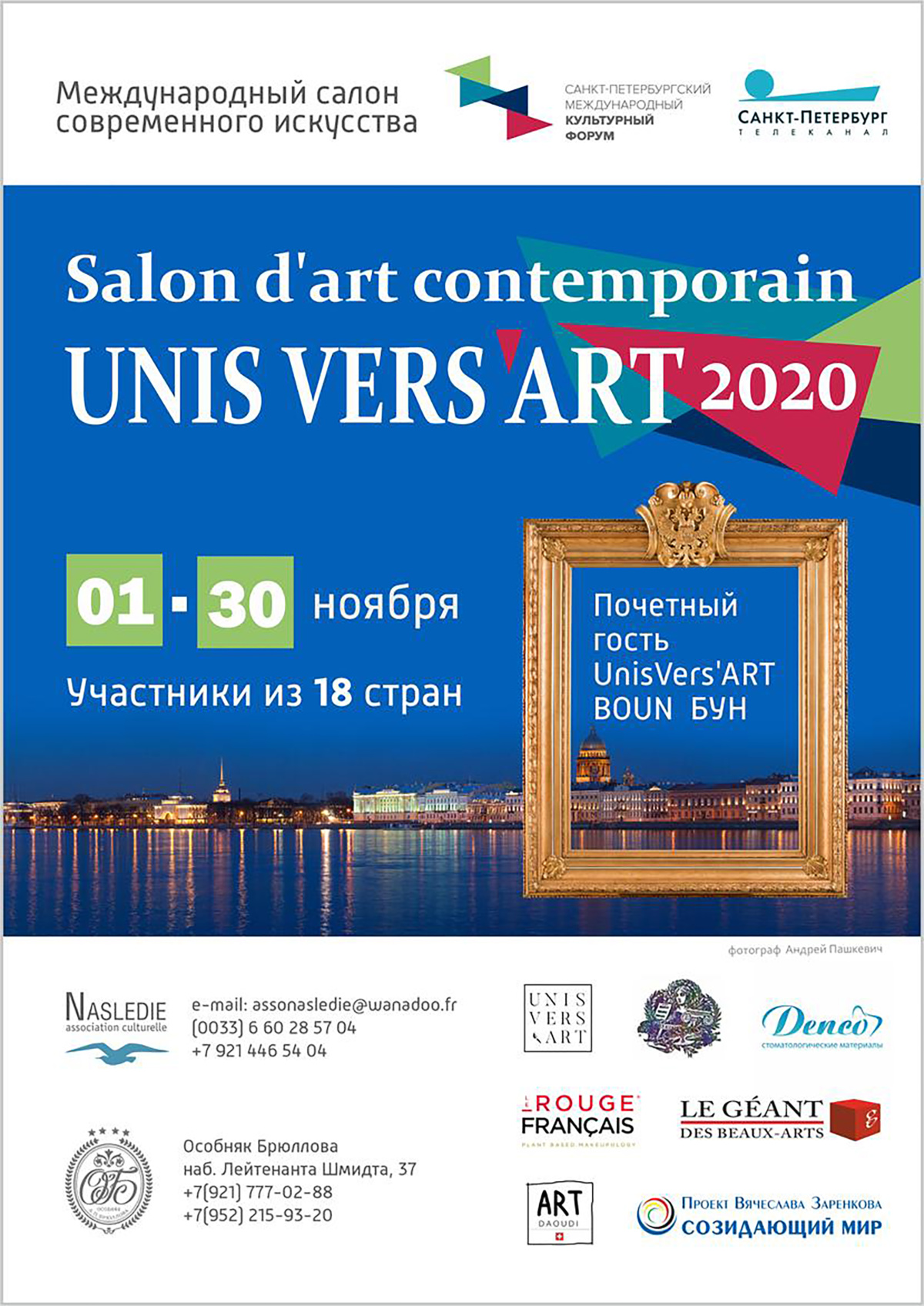 At UnisVers'Art 2020 Form & Bronze presented an exclusive project "Two Sides of Creativity". It was created in 2012 and continues to develop to this day. The aim of the project was to demonstrate how versatile and unlimited in his abilities the creator is.
Famous artists brought the heroes of their paintings to life and embodied them in sculpture. They made a radical transition from painting to sculptural forms, which requires a lot of courage. With this project Form & Bronze Gallery wanted to present to a wide audience modern and talented masters from St. Petersburg, who are not afraid to take risks and are ready to experiment for the sake of art.
For the first time the project "Two Sides of creativity" was presented to the audience in the Museum of Modern Art "Erarta" in 2015. At the exhibition "Birth of Sculpture" one could find unique works by Armen Gasparyan, TAO Sergey Kondrashkin and Arsen Avetissian. In 2016, the project was presented in Moscow.
"Contemporary artists — sculptors and painters alike — are also on a quest of rendering their artistic visions in various art forms. The organizers of the Two Sides of Creativity project, the Form & Bronze gallery, have undertaken a noble task to assist them in this challenge. This has produced an incredibly interesting result.
By moving from painting to sculpture, Alexander Sigov is making his artistic language more laconic and restrained. Expressive opportunities are revealed through the accuracy of plastic expression and in the clear dynamics of the internal movement of volumes. The pictorial detail and naturalism are being replaced by a generalized elongation of forms, internal expression and conciseness.
In their sculptural art, Nikolay Reznichenko and Alexey Kiryanov seem to be breathing life into their painted characters by making them three-dimensional, filling them with air and joining them with the environment. Their paintings are in a plastic dialog with themselves, and remain very close in their aesthetic characteristics while complementing each other's images.
For Andrey Belle, the laws of painting and the laws of sculpture provide completely different possibilities for translating an artistic idea; his flat surface artwork and 3D creations really exist in different worlds and speak different languages. This is neither good nor bad; it is the artist's view of the world that exists in a multitude of different aspects; it allows us to see the world from different points of view.
When turning to a different, not always habitual and familiar form of art, each artist performs a bold experiment, which is itself incredibly interesting and enlightening regardless of the result. In the course of this experiment, the sculptor does not necessarily argue with the painter but the language of art becomes different from work to work, its boundaries expand, and it allows the artist to discover new and enriched opportunities for creativity."
(Candidate of Art History Elena Tyunina)
Photo: Mikhail Ivanov