The gallery of contemporary art "Form & Bronze" and the gallery "Dresden" present an exhibition "Flowers of my soul" expecting International Women's Day – the 8th of March. In the exposition are presented still-life paintings of artists Ruma Daurova and Alexander Sergeev.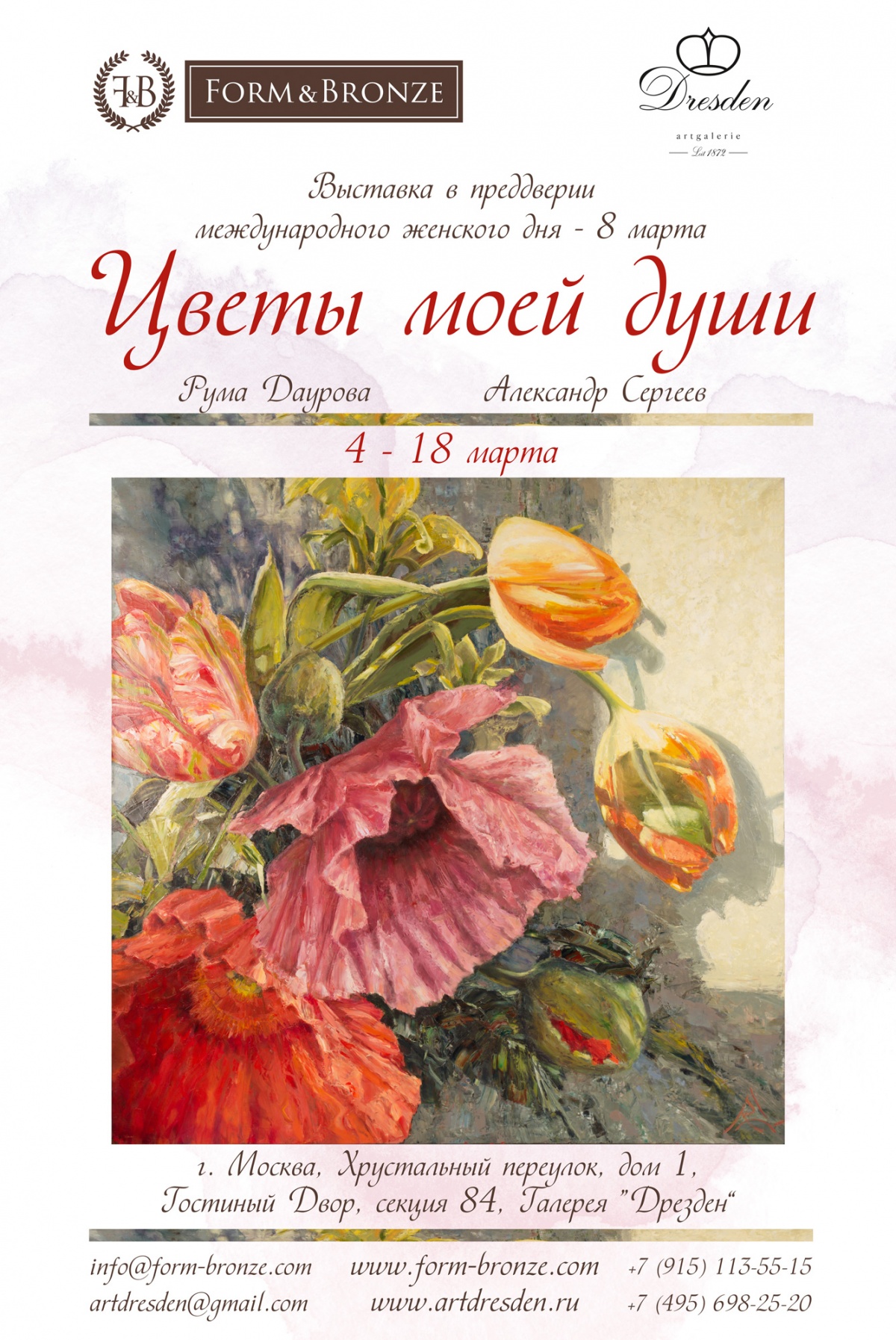 Picturesque canvases with the images of floral compositions appear for the first time in the middle of the XVII century in Netherlands in the world center of flowers' cultivation and sale. In Russia the class of still-life painting forms in the Academy of Arts only at the beginning of the XVIII century and finally confirms as a genre by the end of the XIX century. Since that moment still-life paintings with flowers become an inherent part of salon's decoration of the best Russian intellectual class houses. Today his popularity doesn't loose its applicability. Artists often appeal to the image of world flowers variety.
Picturesque works of Ruma Daurova differ by its sappiness and a wealth of color. They are full of light and a warmth of a south sun. Every bouquet written by the artist, radiates tenderness, womanhood and flawless beauty, created by the nature. Haughty peonies, graceful irises, majestic poppies silently gaze at us from the author's canvases. Ruma Daurova was born and grown up in Tashkent. Having got music education , she continued to study in advertising design school in Moscow. Today she is the member of professional art Union of Russian Artists of international artists' federation. Her works are in galleries and private collections in Russia, France, Spain, Great Britain, Italy, Germany, New Zealand and USA.
Flower compositions of Alexander Sergeyev's brush give us spring mood, awakening a joy of life in everyone. Fresh and light they are like a spring breath, personify nature rebirth, its chastity and primevalness. Having finished architecture institute, Alexander moved to Moscow, where he came of age as a painter. He is in a Creative Union of professional artists, his works are set out in Russia and abroad. Besides Alexander teaches pallet knife in his own atelier of paintings.
Represented exposition will introduce not only with a work of modern Russian artists but give aesthetic pleasure to devotee of beauty.